End Table Decor: Easy Tips and Tricks for Stylish, Functional Accents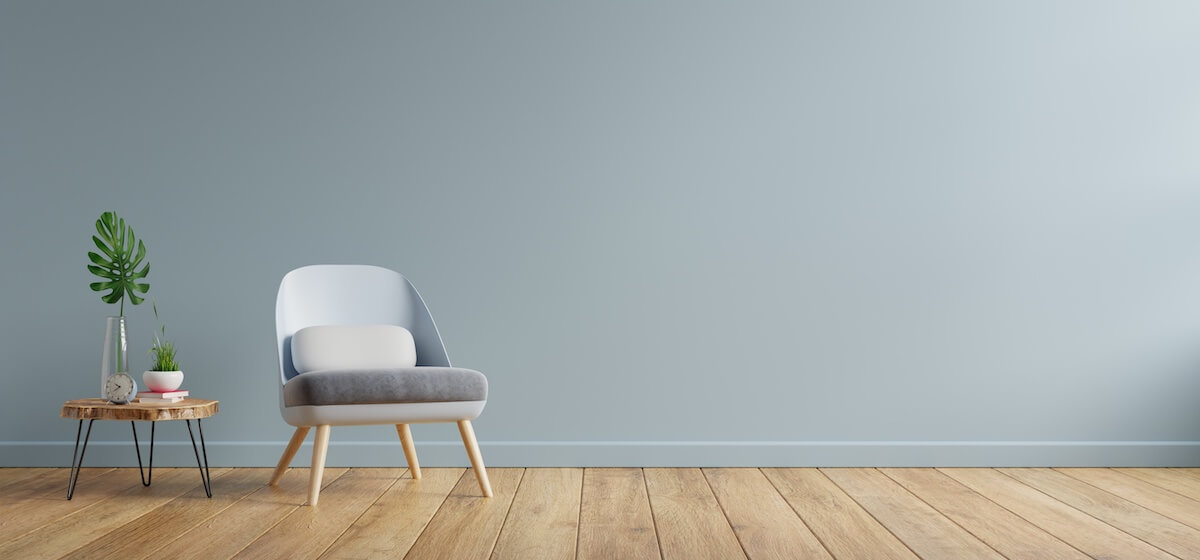 End table decor can be a bit tricky to master. It's all about picking a few great items and playing with accent colors to make your tabletop styling look intentional. Creating beautiful arrangements to enhance your interior design isn't always easy, even for the pros. But we're here to help with tips that simplify the process. 
In this guide, we'll go over the basics of styling a tabletop in any room, no matter your style. These end table decor ideas can elevate your entire space and create a more cohesive, stylish look. 
How to style
 

end table

 

decor 
End tables, side tables, accent tables, console tables, bedside tables, nesting tables, and coffee tables all have something in common that presents a unique home decor opportunity. They offer up a flat surface that's perfect for accessorizing and making your home look attractive. But how do you decide what to put on your tables?
Consider the following styling basics when approaching your end table decor:
Size:

 

The amount of available space on your table will impact what you can add without creating clutter. The shape of your table also matters as it affects how you can use the space. 

Location:

 

Your table's location also determines how you'll decorate it and what practical things you need on the table.

Style:

 

Your overall home style should shine through in your 

end table

 decor

. Whether it's 

boho

, 

mid-century

, 

farmhouse decor

,

 or 

Hollywood Regency

, you'll want your end table decor to coordinate with the rest of your interior design.
5 things to include in
end table decor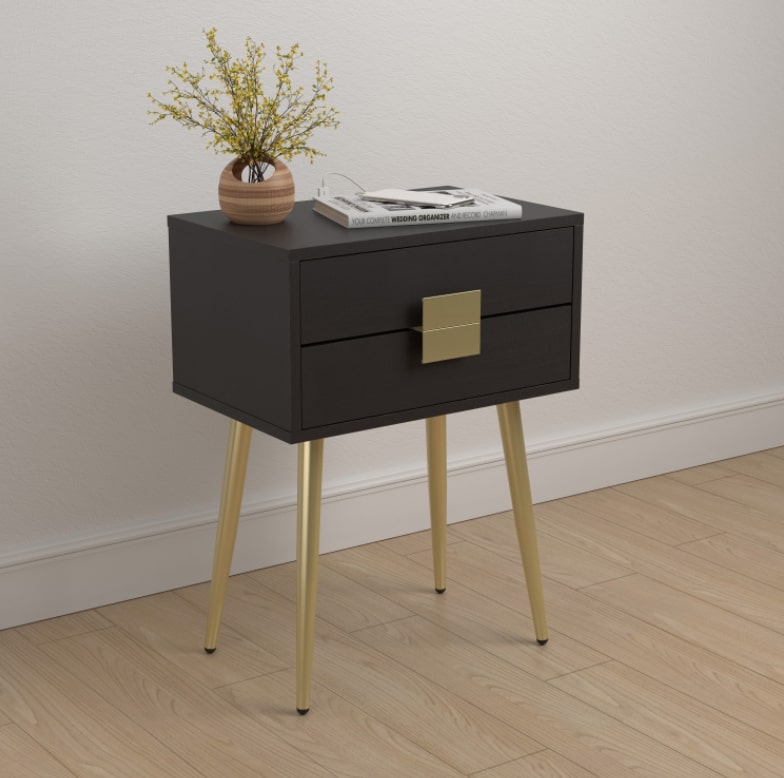 With the basics in mind, you're ready to start decorating your end tables. In this section, we'll outline items to include on your end tables, along with tips to make it work in your home. 
First, though, you'll want to make sure you have an end table you love. Decorating a table that doesn't fit your home, decor or personal tastes sets you up for disappointment. If it's time to replace yours, spend time browsing end tables to find the best fit for your space. If you're not ready to spend money on a new table yet, make a note of the styles that appeal to you for a later time.
Explore your options. Maybe you'd rather have a snack table or a set of nesting tables to accommodate small space living, or perhaps you need a nightstand because you're decorating in the bedroom. Whatever fits your space, style, and needs, having the right piece will make all the difference. 
1.
Table lamps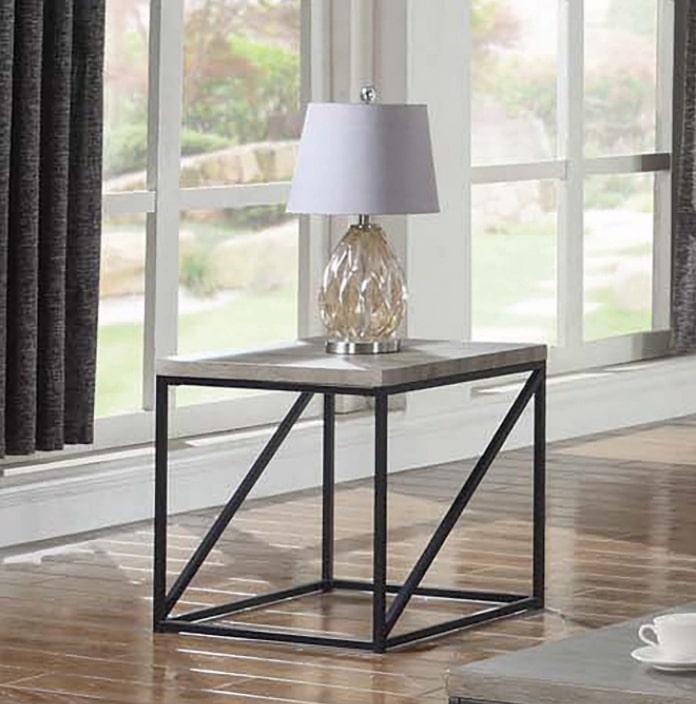 Table lamps are a given on end tables, side tables, and accent tables in any room. They add color, height, and mood lighting, and they serve as functional table decorations. Plus, a table lamp creates an instant reading spot to cozy up with your favorite book. 
The best lamp for your table will depend on the location. For example, in the living room you might pick a lamp set so you have two matching table lamps on either side of your sofa, plus a matching floor lamp. The same is true for your bedroom; you can place a table lamp to either side and nestle the floor lamp in a cozy corner. But if you're decorating a small entryway, one table lamp on the accent table by the door will do the trick. 
Adding multiple lamps is especially useful if your built-in lighting isn't great. Also, tall lamps are ideal for spaces with high ceilings.
As you pick your lamp, look for a good size in relation to the size of your table. And don't forget to think about shape. For example, if you have a round side table, consider a lamp with a round base to match, or a square base to mix it up. 
Keep in mind that lamps don't fit on all tables and they shouldn't be placed in spots where they're easy to knock over. (It's no surprise that coffee table decor doesn't typically include lamps.) If you want to add a lighting element to a table that's not a good fit for a lamp, try candle holders instead. LED candles look beautiful (and quite real) in candle holders. 
2. Books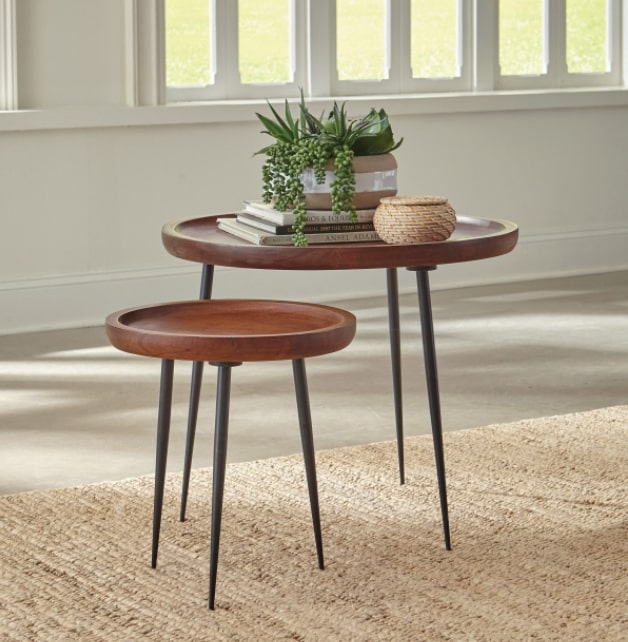 Books add a personal touch to end table decor, especially if you use titles you love. They also add color and can serve as risers for other decorative elements. A stack of books is usually more appealing than a single book, and they can work on top of your tables as well as on lower shelves. 
The best part about decorating with books is that they don't have to take up much space if you set another item on top. You probably have books at home already, so it's a great DIY addition to your end table decor. 
Choose books that match the color palette of the room. For example, books with blue or green covers and spines would work well in a family room with hues of blue, white, tan, and green. Likewise, books with red spines would enhance a bedroom decorated in red, brown, tan, and beige. 
Books are also great with other decorative items to create vignettes. For instance, you can add a houseplant atop a few books and set it alongside a catchall for keys or jewlery. And if you have different objects of the same height in your end table decor, add a few stacked books as a riser for one of the items to mix up the levels. 
3. Houseplants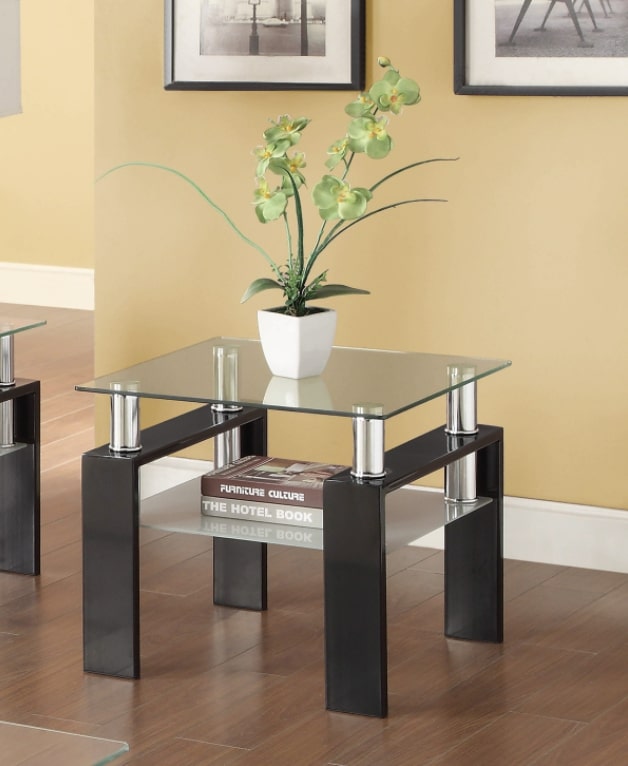 Plants look beautiful everywhere, and since you can buy faux plants, you don't need a green thumb to enjoy them. A touch of greenery in the dining room, bedroom, or among your living room furniture adds life and natural color. 
Lower shelves of multi-level tables work well for small plants, but larger plants work best on top. Houseplants won't clash with much, but you do want to consider the color and style of your planters. For example, a terra cotta pot might look stunning on a natural wood table in a modern farmhouse space, but you might try painting it white to fit a modern minimalist space.
Houseplants are a good fallback when you don't like any other decor tips you've tried. A trio of three small plants with slightly different planter sizes and heights might be all you need for your end table decor. 
4. Coasters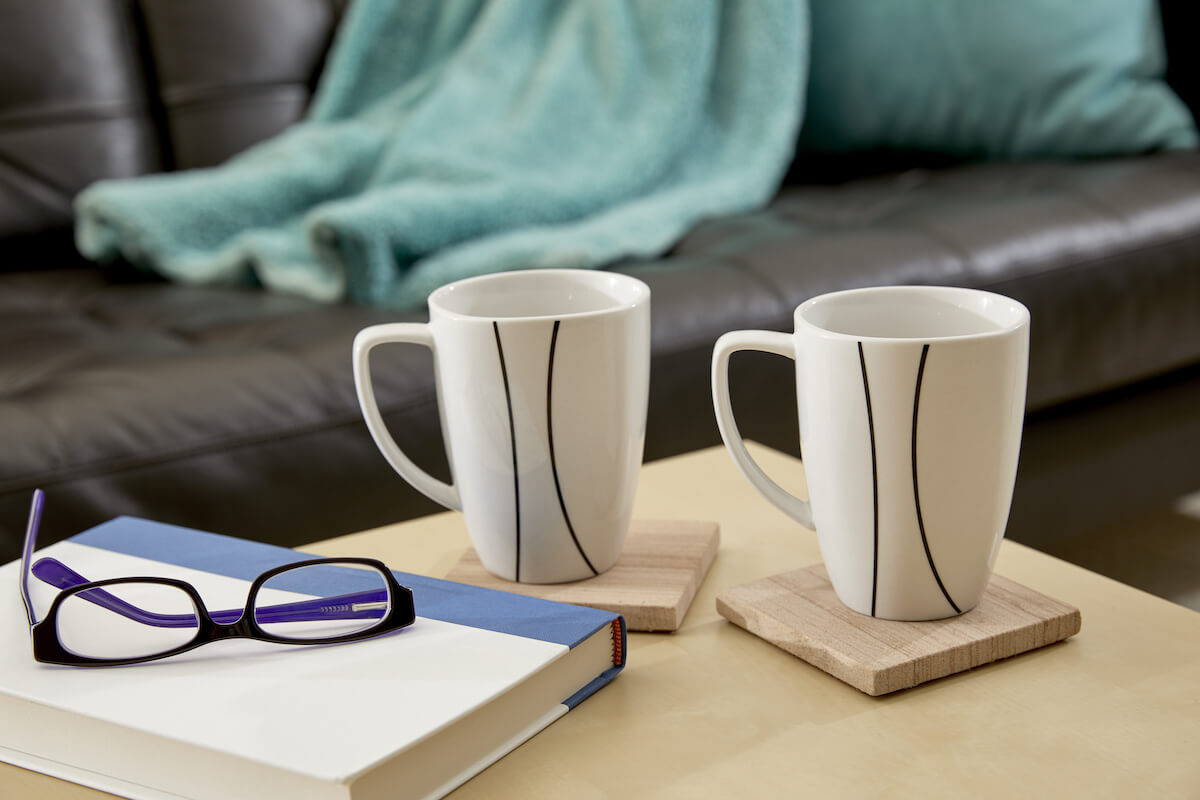 Coasters are a must to protect your tables, especially when you're decorating the living room. A set of coasters might not seem like living room decor, but why not make them part of your tabletop makeover? Decorating ideas that use simple, practical items are often the ones that stand the test of time. 
Secondhand stores are great places to look for coasters with character, but you'll find beautiful options online and at home goods stores too. Look for a set of coasters (or create DIY coasters) that fits the room and table you're decorating. For example, if you have an antique white end table, try whitewash rattan coasters or something with a vintage design. 
5. Personal artwork or photos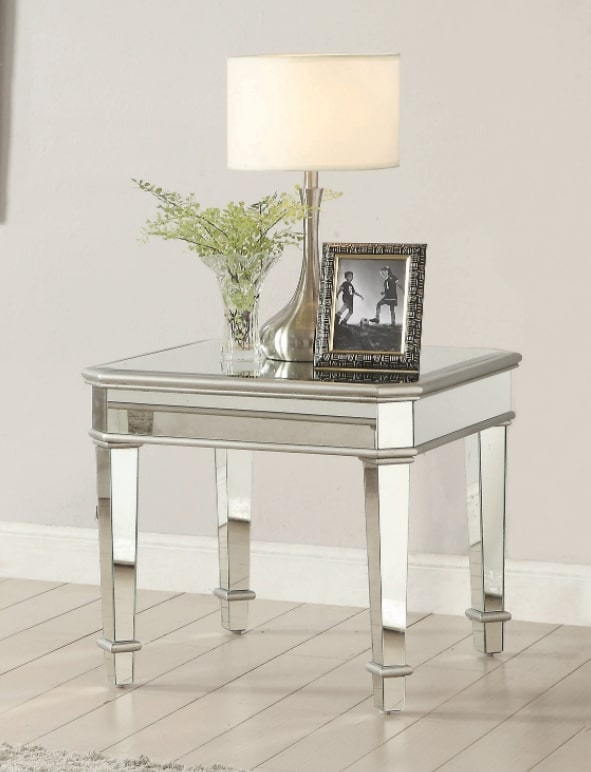 End table decor can help display your style, but it can also showcase more personal aspects of your life. For example, a photo from your wedding, a silhouette painting of your dog, or artwork from your children can bring your tabletop to life. 
If you don't have anything in mind, now might be the time to try that painting tutorial you saved the other day. This doesn't limit you to framed artwork, though. Exciting art pieces such as sculptures, statues, ceramic bowls, and vases also add endless visual appeal to end table decor. 
Select artwork that matches the color and style of the room if you can. But if you add one or two personal items that you love, they don't have to match perfectly. It's about what brings a smile to your face. 
Decorating tips
 

to put it all together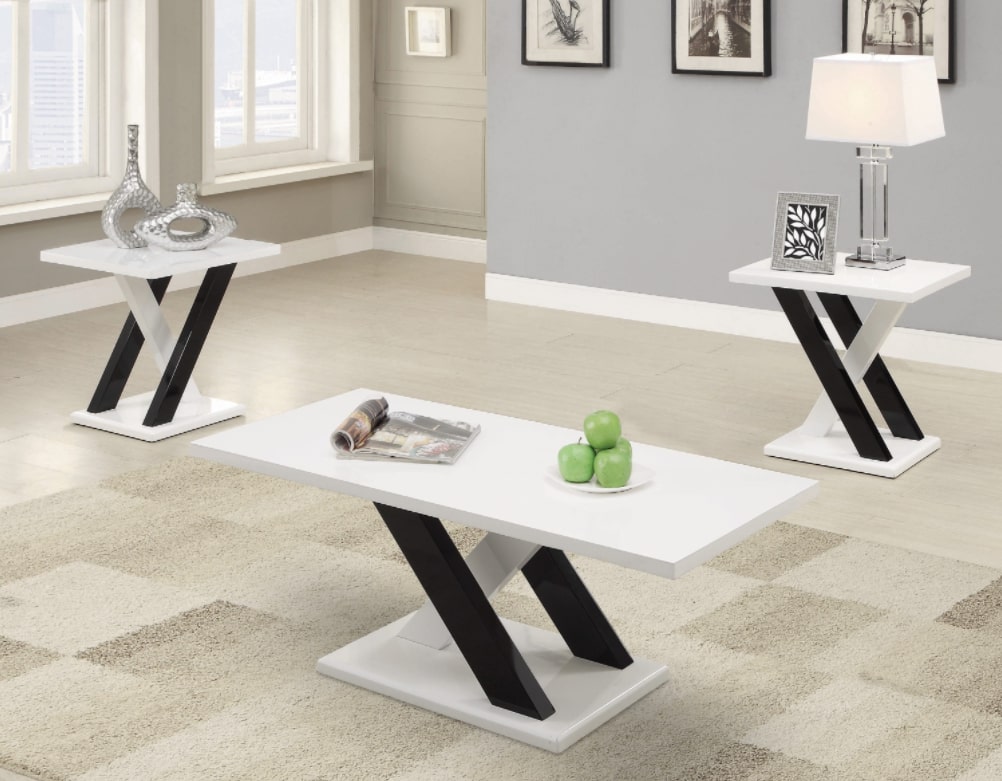 You don't need to use every item recommended on our list to pull off photo-worthy end table decor. But it helps if you have an idea of how to put it all together. Think about which ideas you like and which don't fit your vision or style. Then use these tips to help create arrangements you love: 
Keep it simple:

 

End table decor

 needs to be simple to keep it from overwhelming the 

tabletop

. Even larger surfaces like 

console tables

 benefit from a less-is-more approach. It's best to pick a maximum of three to five items for small tables and four to eight for large tables. 

Think symmetry:

 

Symmetrical decor is pleasing to the eye, so try to use it in your 

end table decor

. For example, you might use matching 

accent tables

 in your space or the same number of items on each 

end table

. However you use symmetry, it'll enhance your design. 

Play with height:

 

We touched on this already, but it bears repeating. Several items of the same height can look boring so try different heights for more visual appeal.

Include what you need:

 

Don't forget to leave room for items you need within reach on your table. 

End table decor

 is fun but your 

end table

 should be functional above all else. If you need a spot for your remote control, maybe add an artistic bowl to keep it in.
With these decorating tips, you should have no problem creating eye-catching end table decor in any room. And remember, the tips and items we listed can work with almost any table if you account for size and location. 
Ready to
give
your
end table decor a makeover?
With these decor tips and tricks in mind, you should be ready to give any table arrangement a makeover. The best thing about end table decor is that it's easy to change, so you can keep making updates whenever inspiration strikes. If you're still looking for the perfect end table, head to DELRIO'S FURNITURES Home Decor. 
---