French Country style: How to create this rustic-chic look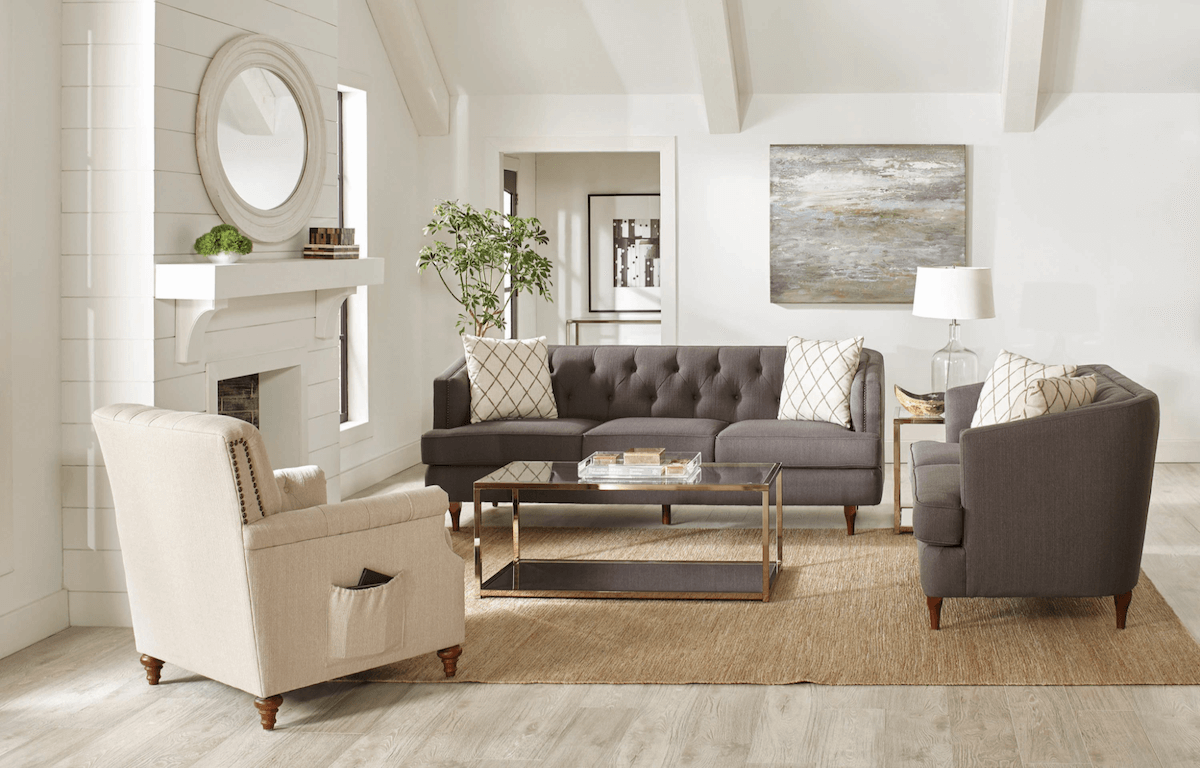 Before modern farmhouse style or cottagecore decor ever hit your Instagram feed, there was French Country style. This timeless look experienced a resurgence in the early 90s with the emergence of shabby-chic decor, which is essentially French Country decor by another name. (And if you ask us, a rose-print fabric by any other name would smell as sweet.) 
But classic French Country design predates the shabby-chic movement by nearly 300 years. This charming Old-World style finds its origin story in the 18th century French countryside where farmers styled their homes with the same gently worn furniture and artfully faded fabrics that their family owned for generations. 
But this was France, after all, so there were always little hints of glamour added in — like a crystal chandelier hanging above a rustic wood dining table. The resulting look is both upscale and comfortable. It doesn't have the unapproachable, museum-like quality of some traditional style homes. Instead, it manages to be both glamorous and fuss-free. 
If you want your home to feel like you've returned to a French farmhouse after an afternoon of riding bicycles through lavender fields in Provence, then you need to master French Country style. Join us for a journey through the essential elements of this design style, and learn how to get the look in your home.
Signatures of
French Country style 
Even if your New-World home doesn't have wood beams and stone floors, you can recreate a French Country look by incorporating these signature items. 
Natural materials
There wasn't a lot of acrylic floating around 18th century France. Most French Country home decor reflects the materials that were available at that time. You'll see rustic wood furniture, wrought iron bed frames, soft linen fabrics, and porcelain or glazed terracotta pottery. 
Even though the materials are natural, they aren't always left au naturel. Furniture is often painted, especially in shades of white, grey (French grey had to start somewhere!), or dusty blue. Often the painted exterior is artfully worn away or antiqued to show glimpses of the wood or metal underneath. 
Neoclassical silhouettes
Even though we're taking cues from France, we won't be recreating the ornate bed chambers of Marie Antionette. Instead of the curved silhouettes and carved-everything look of Baroque and Rococo decorating (that ornate style you associate with French kings and queens), French Country interior design is influenced by the Neoclassical period. 
This period embraced cleaner, straight lines but still included a few flourishes of fine craftsmanship, like carved legs on a dresser or a small ornamentation at the top of a headboard.
Aged
patinas 
Embrace the rustic charm of aged, antiqued, faded, and worn exteriors. The pieces that make up a French Country home are often well-loved. While they don't look worn out, they do look lived in. Picture copper that's naturally aged in the sun to take on a green patina, or a white hutch that's faded to reveal some of the wood hiding underneath. 
Often accessories like table lamps or flower pots can be picked up at flea markets to get an authentically lived-in look. But a lot of new furniture mimics this aged-to-perfection exterior with antiqued finishes or white and wood designs.
Tufted
upholstery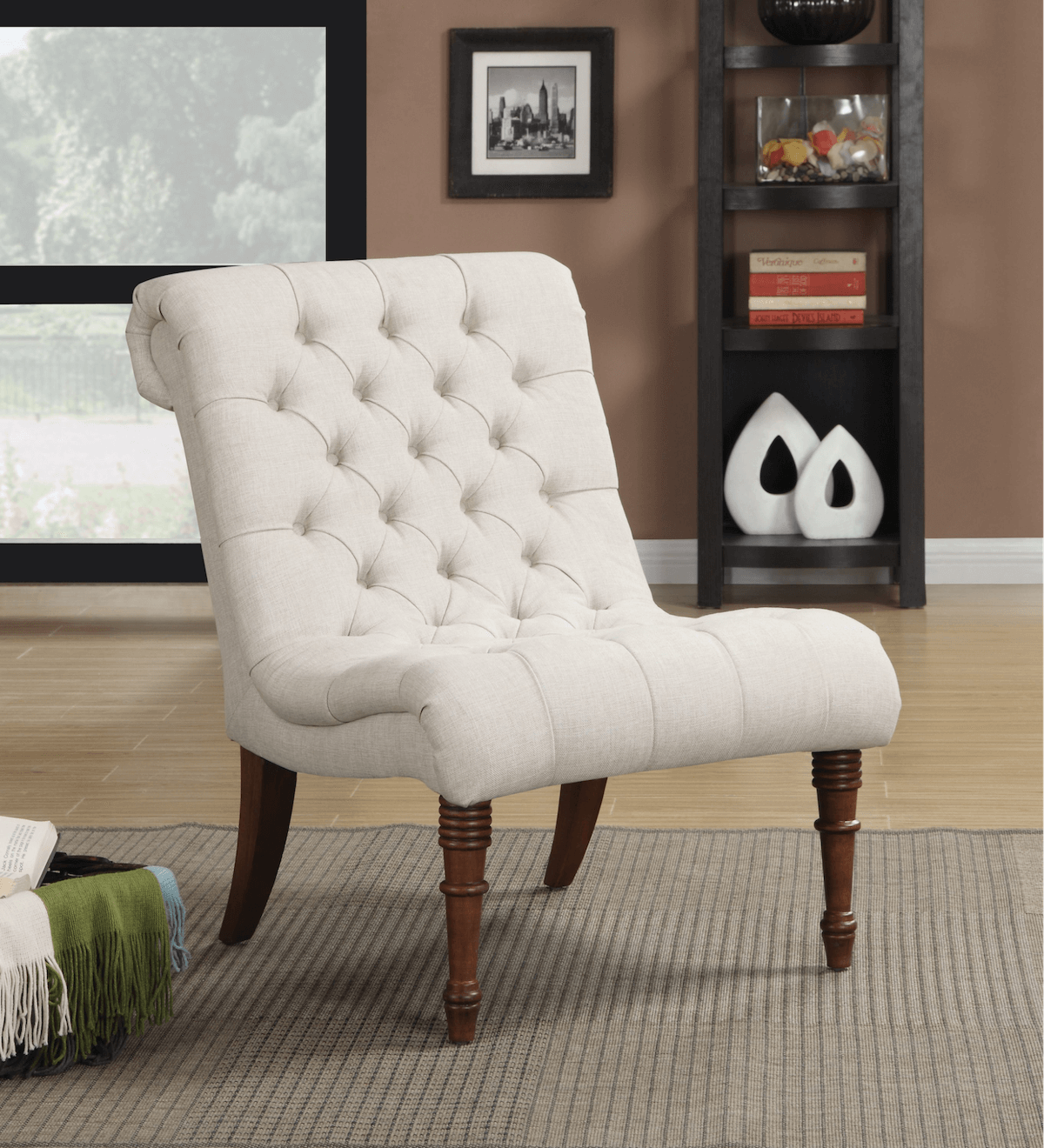 To add a touch of glamour to your aged furniture, opt for button-tufted upholstery. A sofa, love seat, or accent chair with a tufted finish can instantly transport you back to the 18th century. 
French Country fabrics 
Whether you're choosing the upholstery for that button-tufted sofa or picking out cafe-style curtains for your window treatments, certain fabrics will instantly pull together your French Country decor. 
Floral, striped, gingham, and toile fabrics are classic elements of this design style. Typically, the fabrics will come in lighter colors and have a slightly faded appearance. Ruffles are encouraged but not required, and if you want a more restrained version of French Country style, you can swap out the ruffles for corded trim. 
Pastel
color palettes 
While you're picking out fabrics, you should also establish your color palette. White, beige, light grey, pale blue, and faded pastels are all signatures of French Country decorating. But you can put a moody spin on this style by selecting smokier colors like dusty purple or slate grey. For more inspiration, explore classic cottage colors or cozy neutral palettes. 
Glamorous light fixtures 
Crystal chandeliers and white wrought iron wall sconces upgrade the humble (at least by the standards of French kings) decorating style of the French countryside. These little touches allowed provincial French homes to bring in elements of Parisian elegance. But they also served a practical purpose. 
French Country homes often had small windows. Crystals catch the natural light and reflect it, amplifying the amount of sunlight in the room. Even if you have a modern home with large windows, a crystal chandelier will add a little sparkle to your decor. And because most French Country homes had smaller, more modest chandeliers, you don't have to blow your entire decorating budget to get this look. 
Herbs and flower arrangements 
The snake plants and fiddle leaf figs of modern interior landscaping might look out of place in your French Country cottage. (But by all means, feel free to upgrade this classic style with trendy houseplants if that's where your heart lies.) Classic French Country style still brings the outdoors in, but it uses flower arrangements and indoor herb gardens instead of potted houseplants. 
Fresh-cut roses or peonies from your personal garden would be trés French Country, but there's no shame in picking up a bouquet from the grocery store or even opting for silk flowers. Arrange them in an old watering can for an extra dose of rustic charm. Then, complete the look by placing potted herbs on the windowsill of your French country kitchen. 
French Country decorating ideas
 

for every room

Now that you've mastered the overall aesthetic, let's put this style into practice with French Country furniture for your home. 
French
 

Country living room

 

decor
French Country style is perfect for entertaining because it's instantly inviting — casual enough to make guests feel at home, but beautiful enough to make them feel like they're somewhere special. Add a heavy dose of French Country decor to your living room with these pieces. 
Avonlea Sloped Arm Upholstered Sofa

: From the linen fabric to the button tufting and the nailhead trim, this sofa is oozing with 

French Country style

. Add a few 

toile

 or striped throw pillows to bring in more 

classic French Country

 fabrics. 

Rectangular

 

Coffee Table

 

in Dark Cherry and Antiqued White

: The aged-white legs paired with the wood top on this 

coffee table

 give it a worn-in appearance, perfect for a 

French farmhouse

. 

Rectangular End Table in Dark Cherry and Antiqued White

: Pair your 

coffee table

 with matching 

side tables

, and the look is complete. 
French
 

Country dining room

 

decor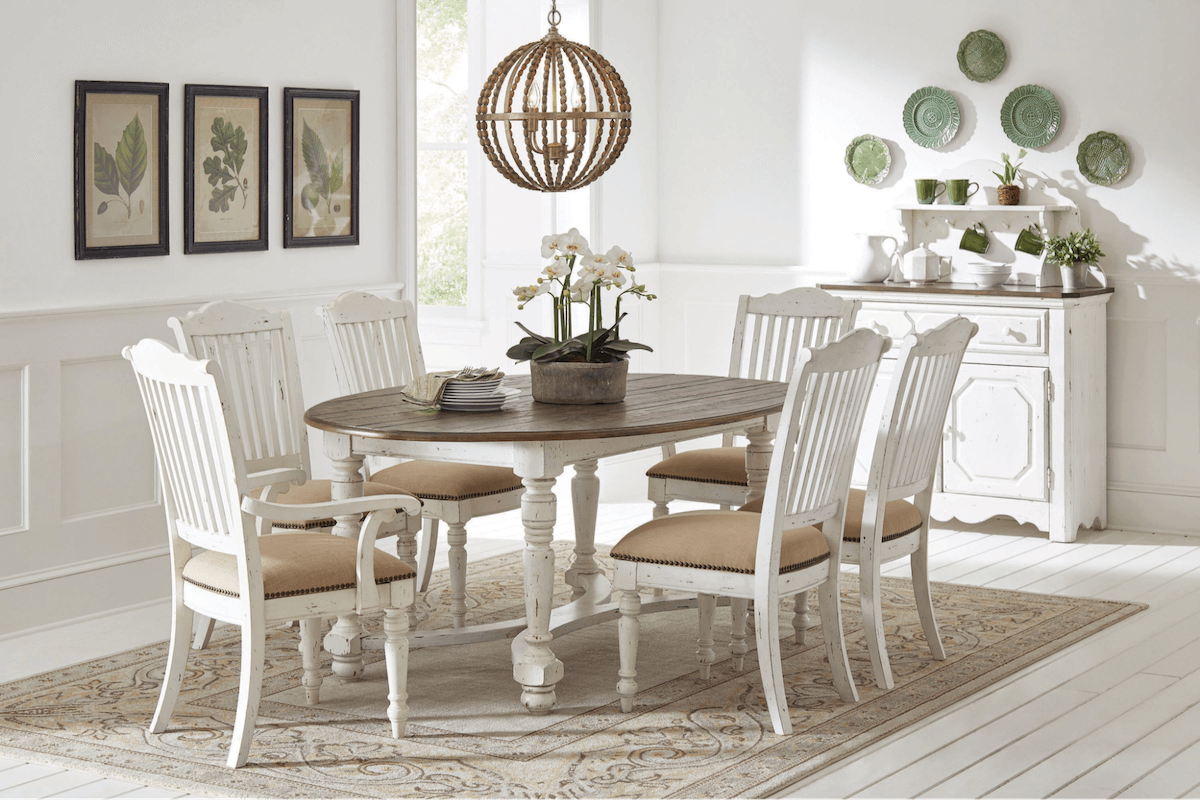 Gathering around the dining table to indulge in fine French food is part of the dream of the French countryside. Make mealtime special by adding these pieces to your dining room.
Simpson Oval

 

Dining Table

 

in Vintage White and Latte

: This white and natural wood-toned 

dining table

 has places where the painted finish has been artfully worn away to reveal the beautiful wood underneath.

Simpson Slat Back

 

Dining Chairs

: Pair your table with matching chairs featuring the same vintage white-paint finish alongside neutral linen 

upholstery

. Add to the communal farmhouse feel by incorporating a dining bench on one side of the table for 

family-style seating

.

Simpson 4-Door Server

: Complete your 

dining room

 set with a matching hutch where you can store your antique serving ware and other 

flea market

 finds.
French
 

Country bedroom

 

decor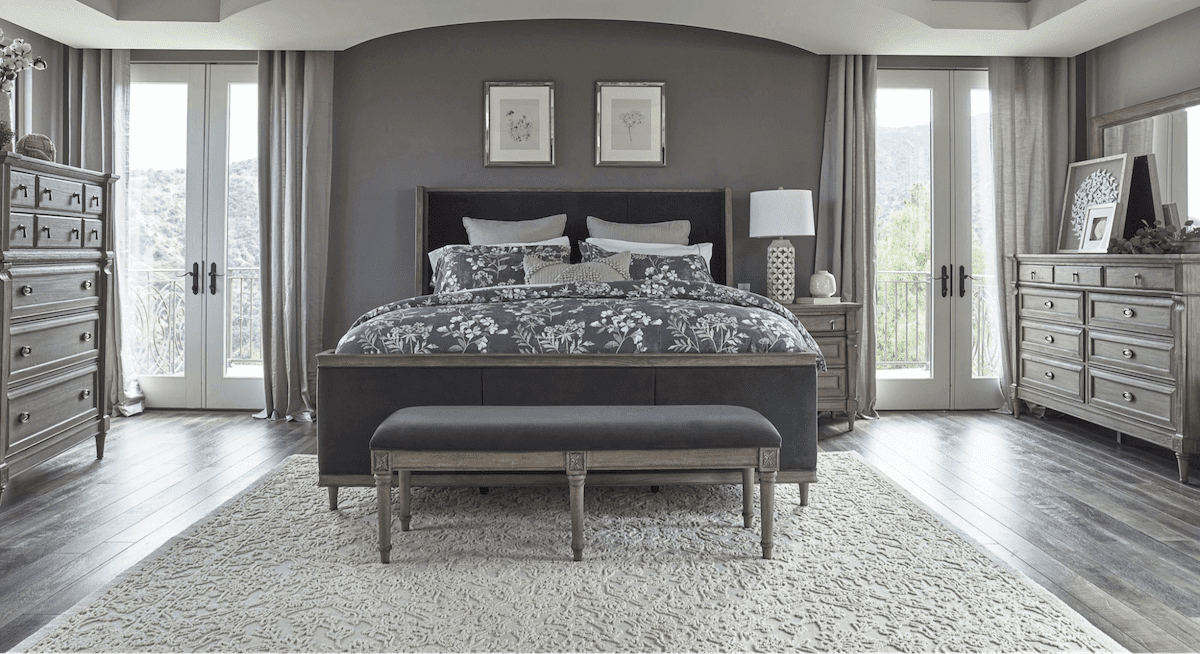 Cozy natural fabrics are a big part of French Country decor, so this style is just begging to be added to your bedroom. We're picturing a ruffled duvet, a mountain of pillows, and these furniture pieces. 
Alderwood Upholstered Paneled Bed

: The neoclassical lines and velvet upholstered 

headboard

 on this bed frame set the scene for a restrained version of 

French Country style

. Pair it with a simple, striped duvet for a masculine interpretation, or go with dark, moody florals to add feminine undertones to a darker French Country 

color palette

. 

Alderwood 3-Drawer Nightstand in French Grey

: Continue to play with moody greys and neoclassical silhouettes by placing this nightstand beside your bed. 

Alderwood 5-Drawer Chest in French Grey

: Finish off your French 

Country bedroom

 set with an 

armoire

, featuring elegant silver pendant drawer pulls.
French Country for less 
French Country style doesn't have to cost a fortune. This beautiful early farmhouse aesthetic has humble roots in the French countryside where it was prevalent in the homes of farmers. Its comfortable, worn-in style should still be accessible to everyone. 
Shop for French Country furniture on any budget in our store, here you will find all the essentials you need to fill your home. Then, check out your local flea market to finish off your home decor with flower vases, wall art, and other French Country accessories.
---