Large and in charge: 5 big room ideas that make the most of your space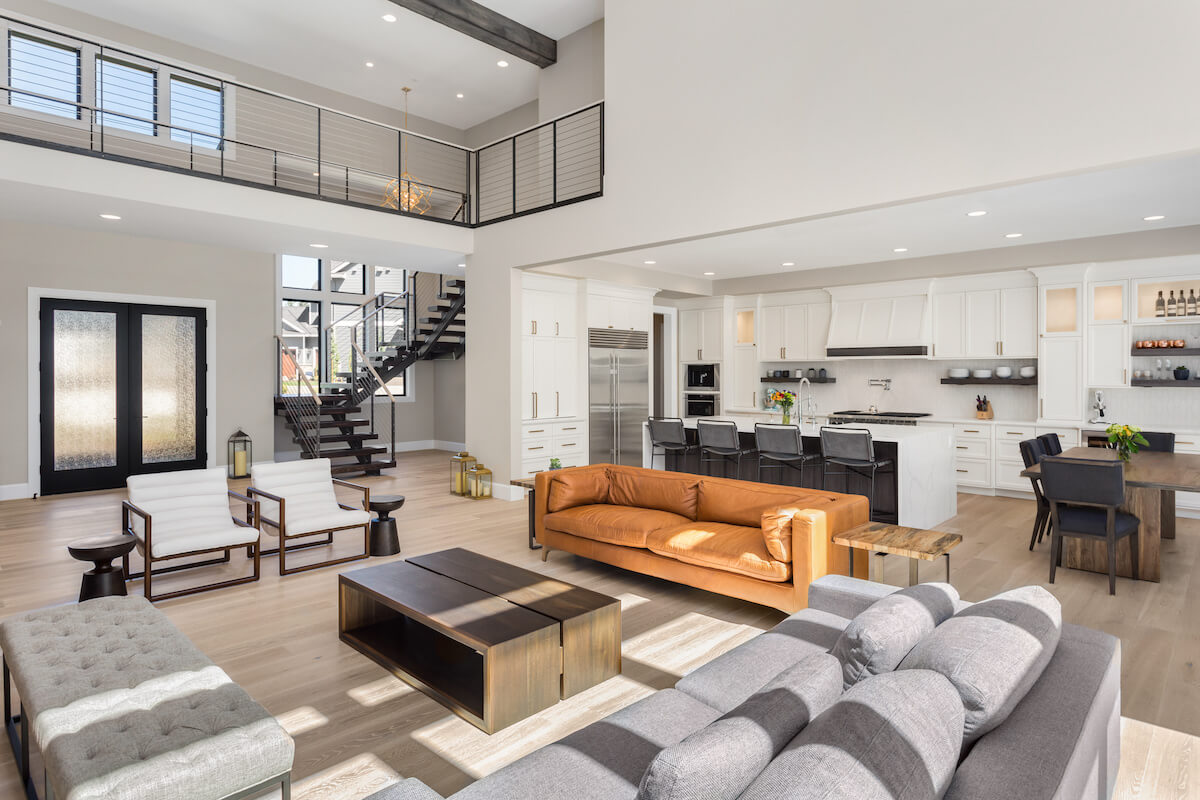 We've all heard the expression "the bigger, the better," but when it comes to decorating, "big" can come with some oversized challenges. (But it's nothing an overstuffed sofa can't solve!) 
If you choose furniture that's too small for your big room, it can make your space feel less like a cozy home and more like an empty cavern. Of course, you could always embrace that feeling and turn your house into a cave home. But, we should warn you, caves don't get great Wi-Fi. 
Instead, use these time-honored interior design techniques to find decor that matches the scale of your room. Then, check out our favorite big room ideas and find furniture to match.
How to decorate to scale
If there's one piece of foundational design knowledge you need before you make over your large space, it's scale. Scale is a fancy design term (we put our pinkies up every time we say it) that refers to the size of objects inside the room compared to the size of the room. If you get the scale right, you can make your room feel thoughtfully designed instead of haphazardly thrown together. 
When you're decorating a large space, the rules for scale are the opposite of what they are in a small space. Go bigger, and don't feel like every piece needs to provide storage or serve a purpose — you have the space to be impractical but pretty. 
That said, small or large, the process for finding the scale of your room is the same: Measure everything. Think about how much of the room a piece of furniture should fill, and then measure it out. 
For example, if you want a sofa with two side tables to fill the width of your living area, then you'll need to measure the amount of space you want to fill and stick to those measurements when you shop. 
If you're not sure how to lay out your furniture or how much of the room you want it to fill, try this trick: Buy some blue painter's tape, tape off shapes on the floor to represent different pieces of furniture. Then, spend some time imagining the furniture in those shapes. Also, walk around them as though you have a large piece of furniture to get by. 
If you decide a shape looks too small or you don't like its location, remove it and try again. Once you're happy with the layout and with how well the shapes fill the room, measure them and use those measurements when you shop for furniture.
5
 

big room

 

ideas that make a big impression

Beyond buying bigger furniture, a big room opens up a variety of design opportunities that would overwhelm a small room. Get ready to play with prints, be bold with built-ins, and live large in your living space. These design ideas will bring big style to your big room. 
1.
 

Divide

 

your large room into

 

sections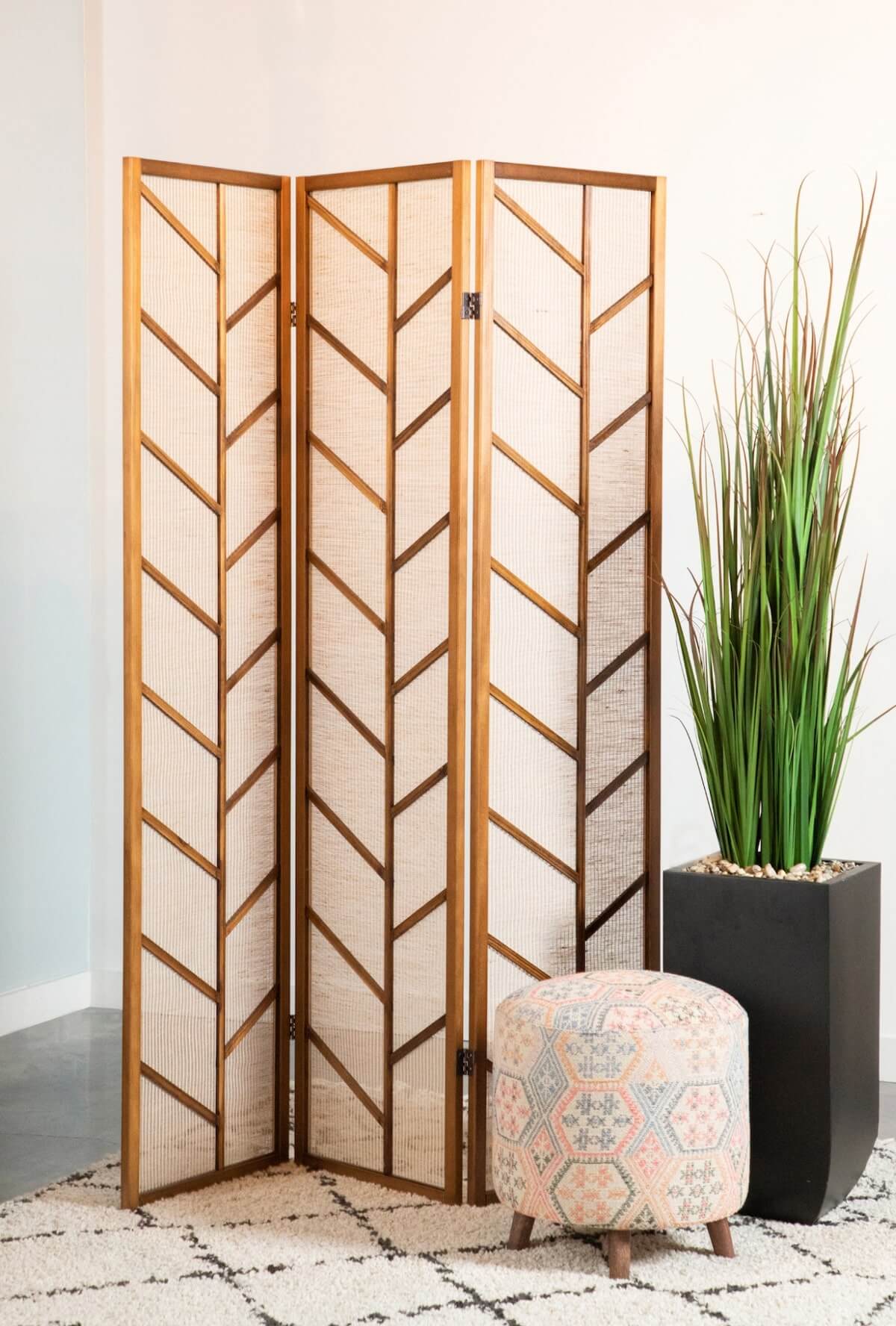 If you already have small-scale furniture that you're not ready to part with, you can make it work in a bigger room by dividing the room into multiple purpose-driven areas. Think of your big room as multiple small rooms, and as you design, use our painter's tape idea to decide where to divide the room. 
For example, you might divide a large living room into a small living room, a home office, and a playroom. For your large bedroom design, you can create a small bedroom area with a small reading nook or a vanity. 
Get the look: Blue painter's tape can't stay on the floor forever. Once you've decided on your sections and are ready to put your decorating ideas into action, use area rugs to block off the different sections of the room. 
You can also use a room divider to distinguish one area from the next. This approach is ideal if there's a section of the room that you'd prefer wasn't permanently in view, like an office or a children's play area. 
Try this Foldable 3-Panel Screen to complete your minimalist design, or this Herringbone Pattern 3-Panel Screen for your modern farmhouse decor. 
2. Create multiple
seating areas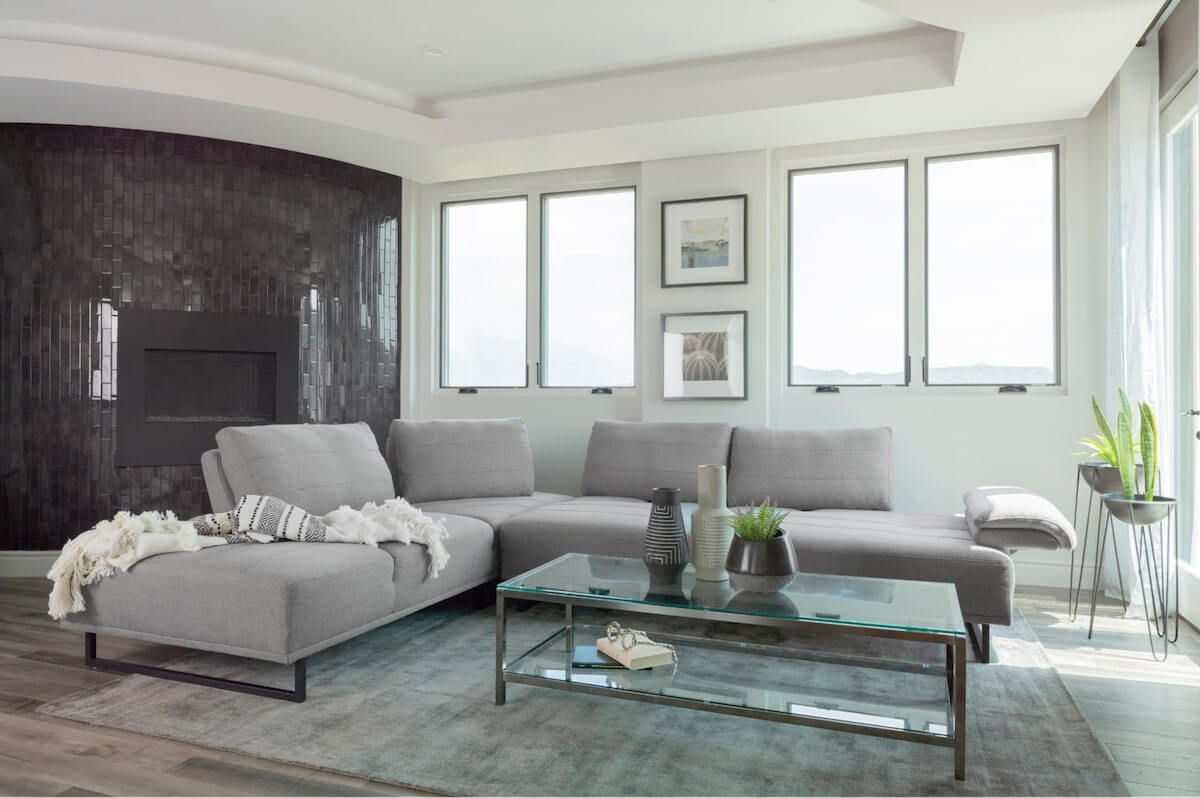 Large rooms are ideal for entertaining, and if you lay out your room with multiple sitting areas, you'll create spaces for all your guests to kick up their feet. Plus, at a large gathering, having multiple areas allows guests to break away into more intimate groups. While this may sound like it's a great room or living room idea, adding multiple seating areas works well in a dining room, too. 
Get the look: In your living room design, use tables to distinguish one seating area from another. Try a symmetrical layout with two sectionals or sofas facing each other from opposite sides of your large room. We like the Arden 2-Piece Adjustable Back Sectional for a large room. Use two coffee tables so that each sofa is its own area.
Style each sectional on opposite sides of your large living room. If you still have a lot of space left between the sofas and coffee tables, add two armchairs with a side table in between to create a U-shaped layout. 
In a dining room, you can also use tables to create separate seating areas. In addition to a large dining table, like the Conway X-Trestle Base Dining Table, add a second seating area by lining one or two walls with bar-style seating, like the Mindo Rectangular Counter-Height Table and matching stools. Not only does this give you room to seat more people, but it also creates a space for formal dining and a space for more casual meals.
3. Let the light shine in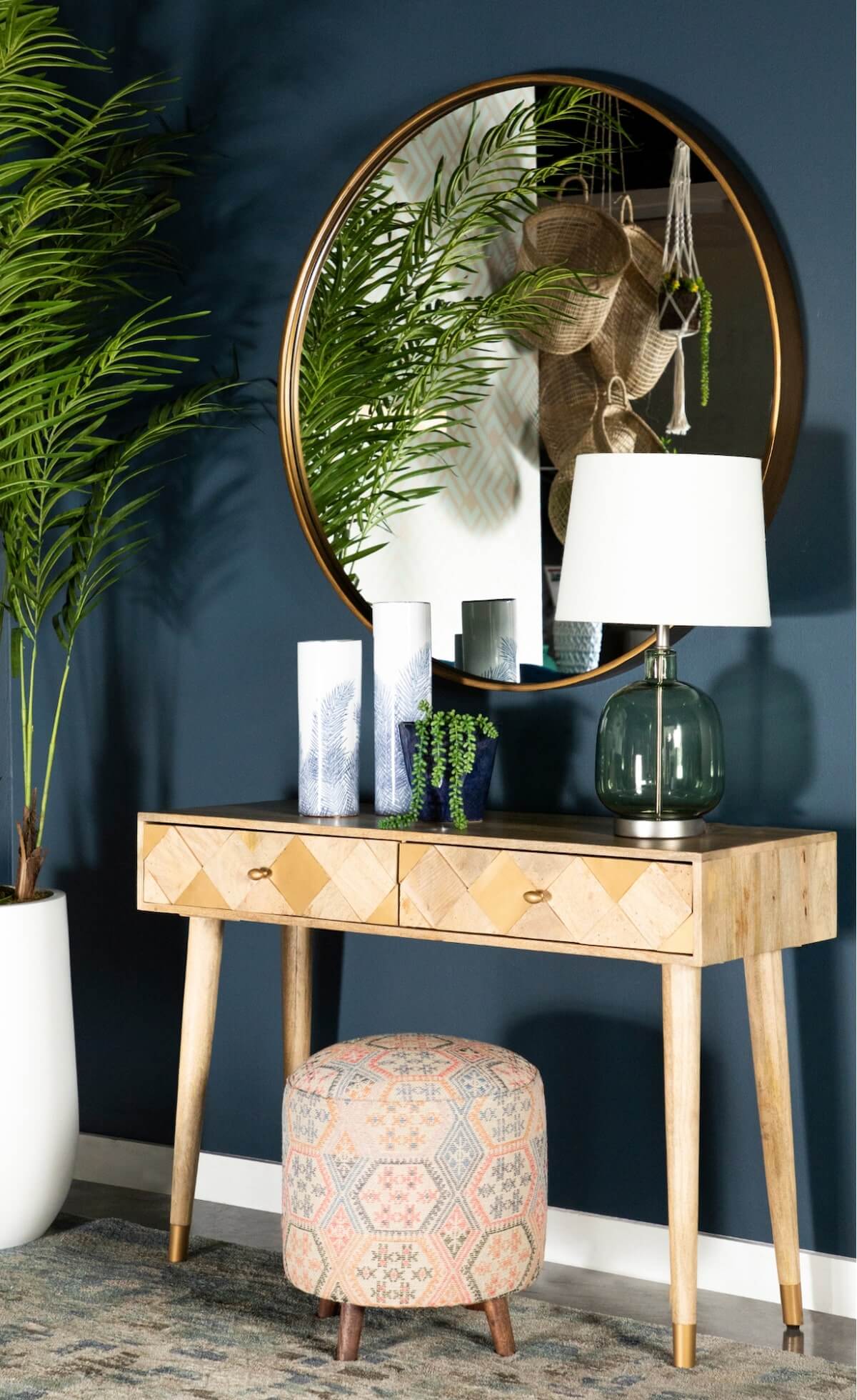 Even a big room that has windows on three sides often has a darker spot that's beyond the reaches of natural light. And if your large space only has windows on one side, you'll definitely need to bring more light into your space. 
Get the look: A dramatic light fixture can bring both form and function into your space. If a crystal chandelier isn't your style, try putting together a cluster of pendant lamps to create your own DIY statement piece that calls attention to high ceilings. 
You can also hang a statement mirror — like this Round Brass Mirror — to reflect more natural light into the space. And because you have extra floor space, you can opt for floor lamps over table lamps.
4. Play with your color palette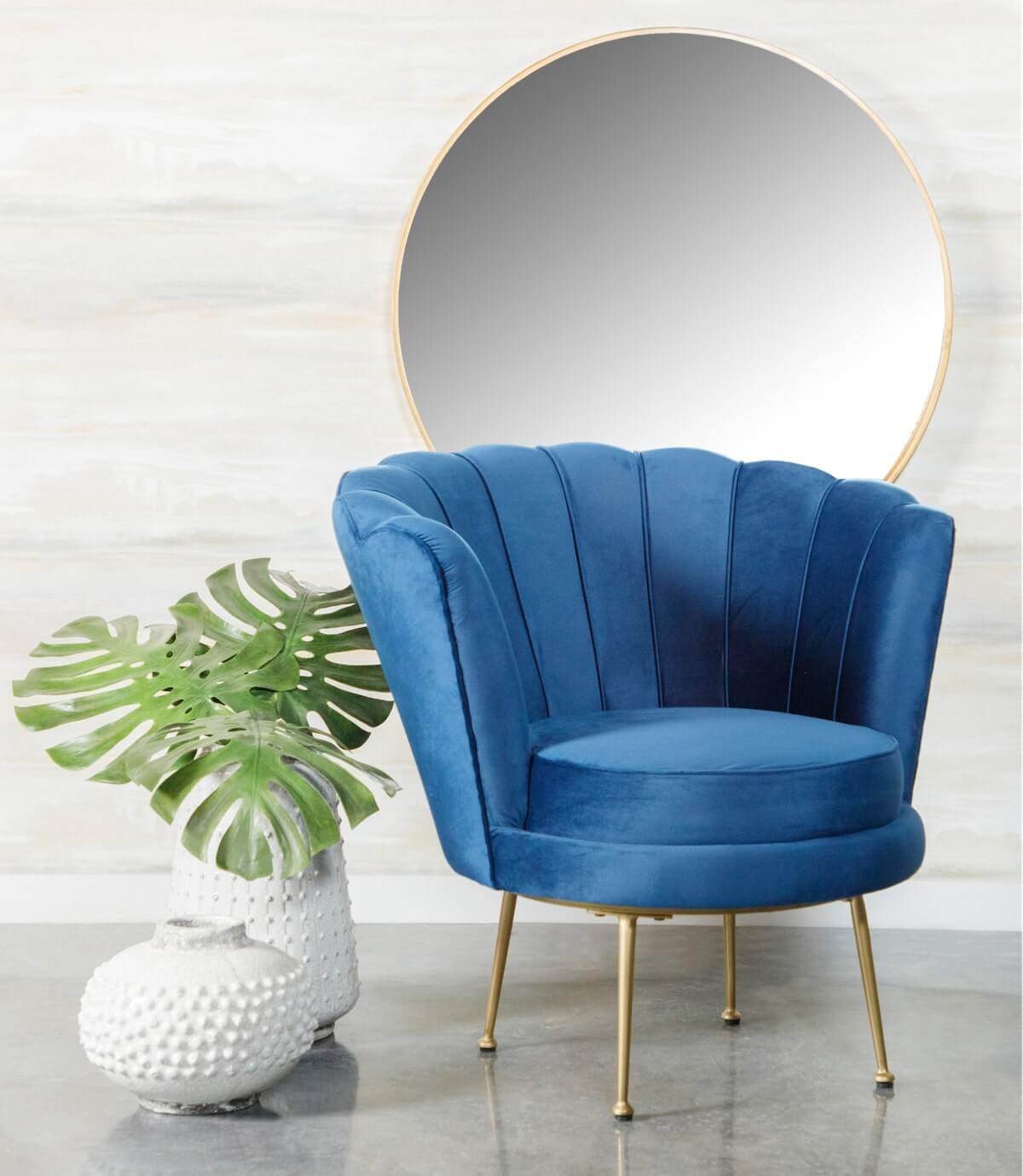 A large space gives you a lot of color options. If you want to make your big room look even bigger, choose a neutral color scheme. But, unlike small rooms, which can feel even smaller with dark paint colors, a darker color scheme can cozy up a large room. 
Get the look: To emphasize the largeness of your space, stick with classic earth tones and white walls. Layer neutrals with more neutrals to create an organic modern look, or add pops of color with art, textiles, throw pillows, and furniture for a Hollywood Regency design. We love this Channel-Tufted Barrel Accent Chair for a bold pop of color. 
For a darker, cozier color scheme, choose a dark paint color — but keep your room from feeling too dark by mixing dark elements with lighter decor. Think dark walls with light furniture, like this pearl white sofa. 
If your room has a chair rail, try painting a lighter color from the chair rail down to the floor, and a darker color from the chair rail up to the ceiling. You can even paint the ceiling a dark color, which will make it appear lower and can make the room feel cozier. 
5. Add an architectural element with
built-ins 
If you're struggling to fill a large space, built-ins will take up floor space in the best way possible. True built-ins serve as a beautiful architectural feature and provide storage that you can grow into, but they can be expensive. If you can't afford to add built-ins to your space, you can create the look for less by adding a row of bookcases.
Get the look: You can hire a professional to install built-ins or go the DIY route by installing wall-to-wall bookshelves. (Just make sure to attach the shelves to the wall studs or they may not be able to support the weight of your books and trinkets.) 
For an even easier option, measure the width of your wall, and buy multiple bookcases to fill the space. You can buy multiples of the same bookcase, or create an eclectic look by buying mismatched bookcases and styling them together like a single unit. 
To make sure the bookcases fit together seamlessly, choose designs with straight sides, rather than designs with molding at the top. We like this 10-shelf bookcase and this geometric bookcase for a cohesive, eclectic design. 
Go big and go home 
Decorating a big room can feel like a big job. So, start small. Bust out your measuring tape and take measurements of your space. Then, use painter's tape to block out the spaces where you imagine your furniture will go. Whether you're picturing a wall-to-wall headboard in your master bedroom or separate kid and adult sections in your family room, blocking out your space will give you an idea of the scale. 
Next, pack up that measuring tape, and bring it to your home. Find a favorite piece of furniture to serve as the focal point for your space, and plan your home decor around that. Just remember to leave room for all your big ideas.
---