Organic modern decor: Where natural beauty meets modern comfort Natural, warm, and organized. Bring the outside in with this guide to soothing and organic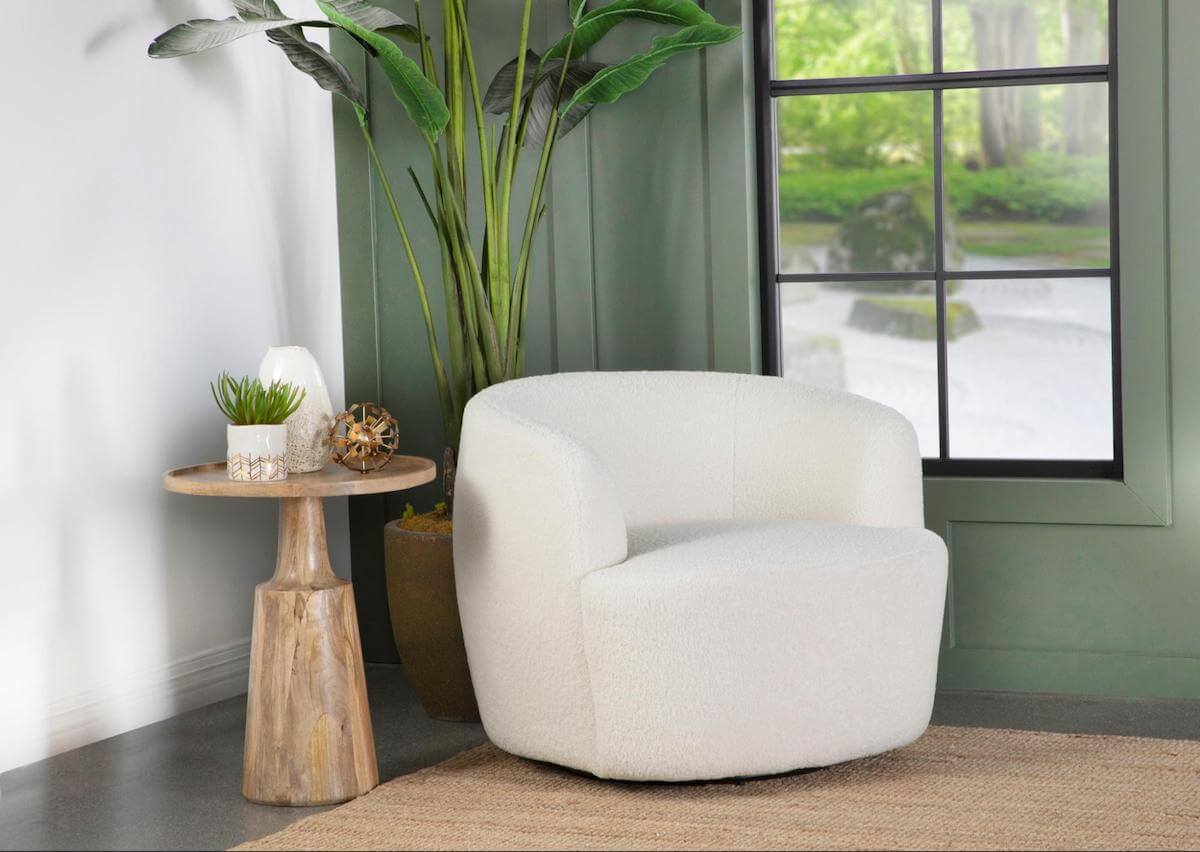 Here's a non-exhaustive list of things worth celebrating: birthdays, holidays, weddings, babies, promotions, puppies, your first houseplant, National Pancake Day, chocolate, plush fabrics, the smell of fresh cut grass, and the beauty of nature. You can turn your home into a celebration of nature by incorporating the one style that will make your space feel as peaceful and awe-inspiring as a redwood forest — organic modern style.
Organic modern interiors are rich in natural materials, which add warmth. But they also feature the clean lines and pared down sophistication of modern design styles. As a result, your ode to nature ends up looking like an exclusive retreat perched on the side of a Japanese mountain, not like a hobbit house set in the middle of a shire. (Although, if you're longing to live in a hobbit house, cottagecore style is here for you.)
To create an organic modern look in your own home, use these design tips and home decor ideas. They'll transform your space into an oasis of peace.
What is
organic modern style? 
Good interior design tells a story — actually, it tells two stories. (That coffee table has a lot to say!) The first story is about you. Your home decor shows your personality and your values. If you value nature, warmth, organization, and minimalism, then organic modern is the ideal style to tell your story. 
The other story interior design tells is about the time and place where the style first appeared. Organic modern is an emerging style, so it's a commentary on our collective state of mind right now. This style represents us all taking a step away from the colder, more sterile elements of modern design — elements like harsh metals and strict horizontal lines. As a society, we're longing to go back to nature, and that's why we're embracing organic modern design.
An organic modern interior allows city dwellers to carve out a natural oasis amid concrete high-rises, and it allows homeowners in natural settings like coastal towns or pastoral suburbs to create a design that works in harmony with the natural elements that surround them. Yet, this style holds onto the elements of modern design that make us more resilient to the hectic pace of life — elements that inspire calm, like clean lines and minimalist design. 
Elements of
 

organic modern

 

design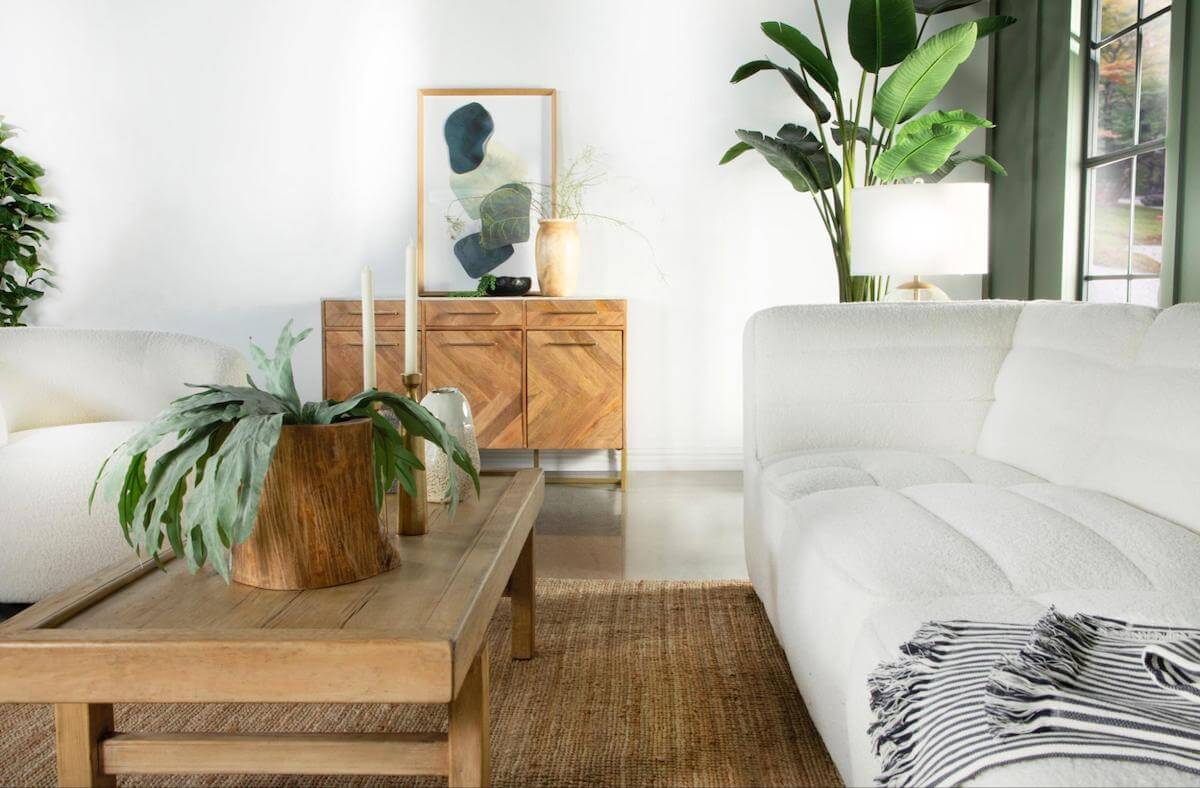 You can show up at any local furniture store and pick the organic modern decor out from the crowd with a few simple tips. Here are the signature elements of this interior design style. 
Clean lines
 

paired with round silhouettes

Similar to mid-century modern design, Scandinavian style, and other contemporary design styles, organic modern design avoids the purely decorative flourishes of traditional style decor (flourishes like turned table legs and carved filigree designs). 

Instead, it incorporates clean, modern lines, like a dining room hutch with a simple rectangular silhouette and hairpin legs. But unlike other modern styles, organic modern design adds round silhouettes too. Picture a coffee table shaped like a boulder. This decorating style also makes room for free-form, organic shapes. Imagine a piece of gnarled driftwood, a windswept canyon, or a seashell — then reimagine those shapes as furniture and artwork. 
Natural materials
 

in a variety of textures 

Organic is in the name, so it should come as no surprise that this style incorporates a lot of organic materials. Layer materials in a variety of natural textures to add visual interest and make your home more welcoming — tactile elements invite guests to feel their way into the space and to feel more comfortable while they're there. 

A strong mix of natural textures could include natural wood furniture, stone countertops, a jute rug, rattan accents, and a variety of natural textiles, such as linen, cotton, sheepskin, and faux fur. 

You can also incorporate organic elements through your smaller decor items. Just don't go too small with your decor, or you could lose the uncluttered look that's a signature of this style. Add natural greenery or a vase full of dried seagrass. Use shells, dried palm fronds, and reclaimed wood in unexpected ways, like to create three-dimensional wall hangings. 

Choose decor that represents the most beautiful elements of the natural world, but don't be afraid of man-made decor either. Look for pieces that remind you of nature, like a poured concrete stool that's weathered to look like natural rock, or a plaster sculpture in the shape of an abstract sand dollar. An organic modern home doesn't have to be 100% natural, but it should be 100% nature inspired. 
Neutral color palettes
 

with a layered effect 

The color palette in an organic modern home is similar to that of a Scandinavian-style home. It features a base of whites, creams, and tans, but you can invite more color into your space by selecting other natural tones like clay, moss, or stone-inspired hues. 

Choose shades with earthy undertones, rather than bright white tones. And if you're struggling to decide on a color palette, look to the natural world around you. A handful of seashells from the beach, stones from a stream, or leaves from local plant life could provide all the inspiration you need. 
6 pieces of
 

organic modern furniture

 

to add to your decor 

Now that you understand the essentials of this style, take a look at our favorite organic modern pieces to inspire your own design. 
1. Wooden Square
 

Coffee Table

 

in Natural Sheesham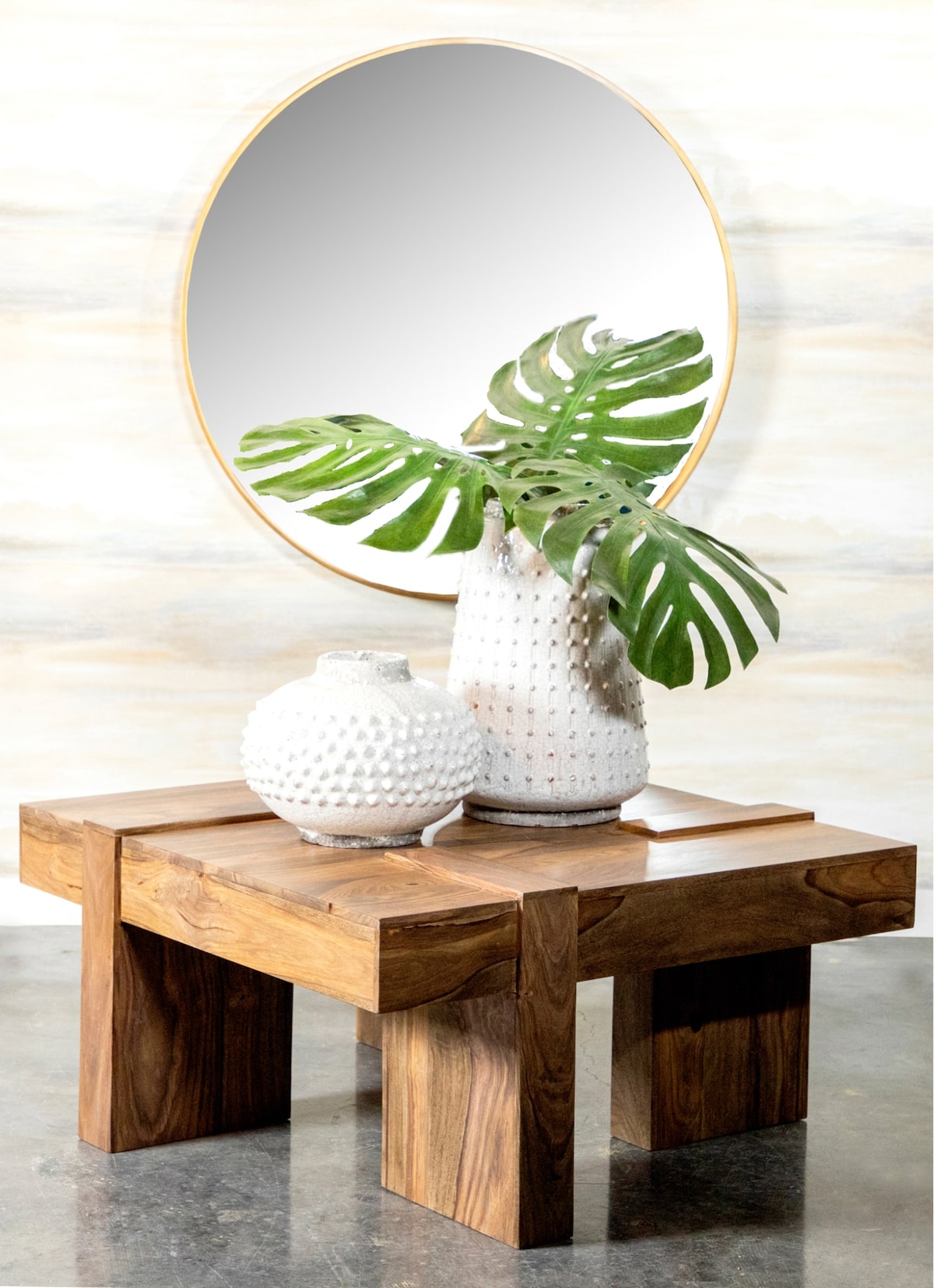 The clean lines of this square coffee table are a striking contrast with the sweeping pattern of the wood grain. It will make a beautiful centerpiece to an organic modern living room. 
2. Winslow Bedroom Set in Smokey Walnut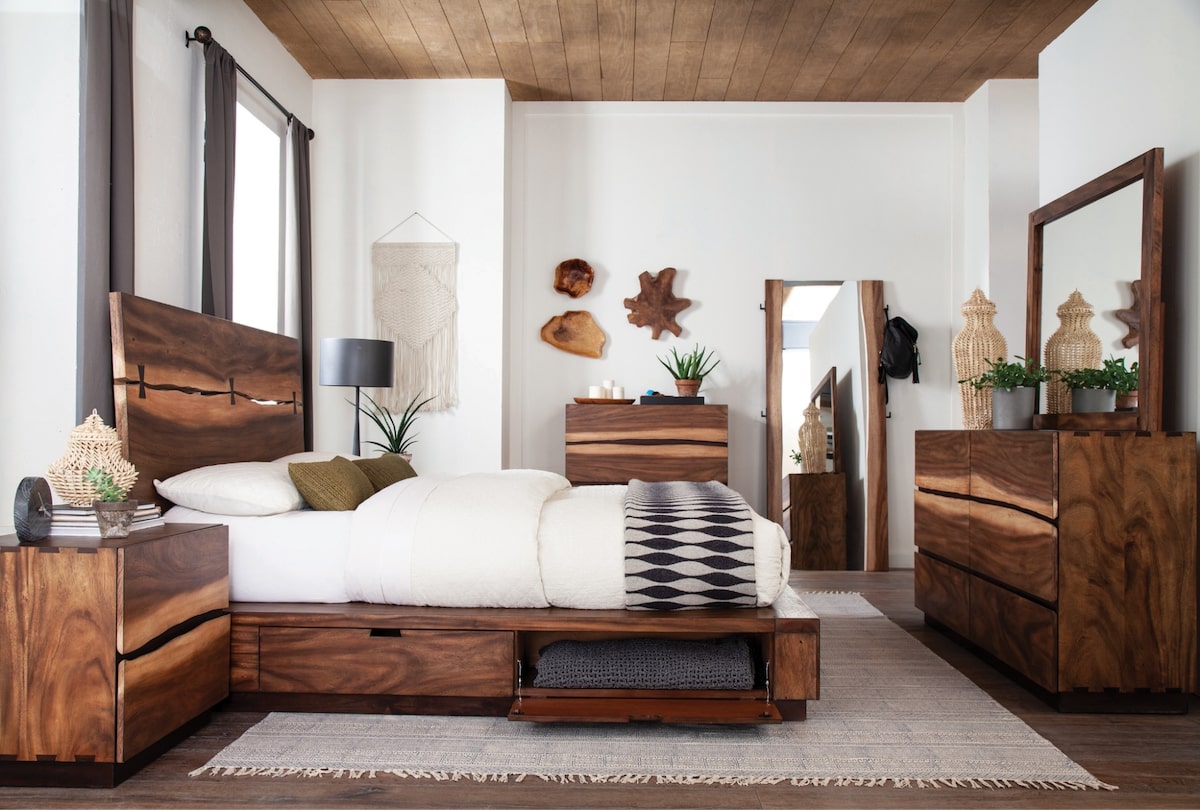 This striking bedroom set gets its organic silhouette from whole tree slab veneers. The drawers and headboard have a live edge that represents the natural, unfinished shape of the wood.
3. Asbury
 

Dining Table

 

Base in Natural Teak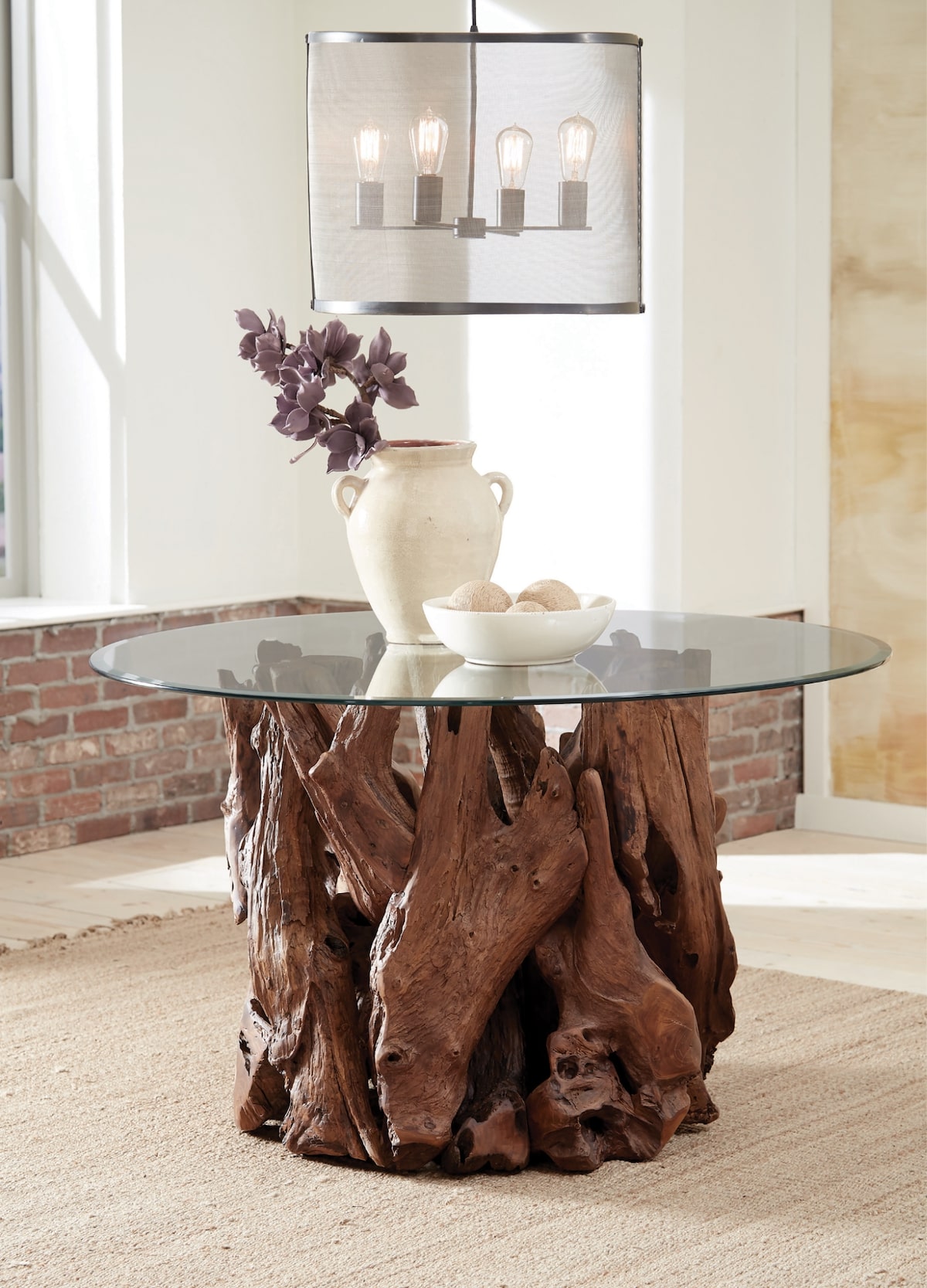 Bring a sustainable piece of the rainforest into your living space with this all-natural teak wood table base. Each one is hand-crafted to have the free-form shape of natural tree roots. It will look just as beautiful in a home office as it will in the dining room. 
4. Pebble-Shaped Decorative Mirror in Silver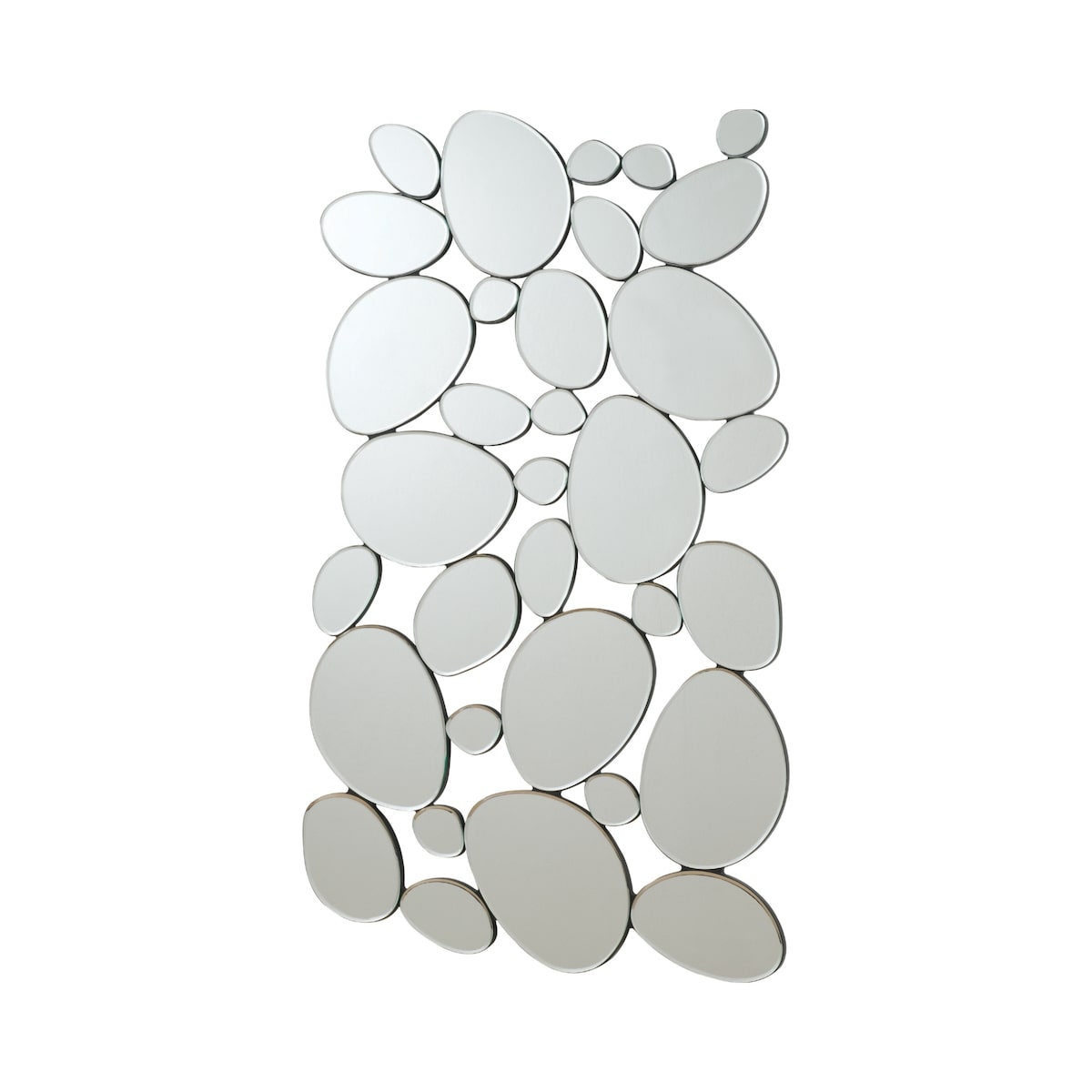 If you're looking for a piece that takes inspiration from nature while serving a functional purpose, this pebble-inspired mirror will be ideal organic modern wall decor. Add it to a bathroom, place it near the entryway so you can check your reflection as you head out the door, or hang it in a room that needs a little more natural light. (The mirror will reflect more light into the room.) 
5. Accent Chair With Upholstered Seat in Brown and Black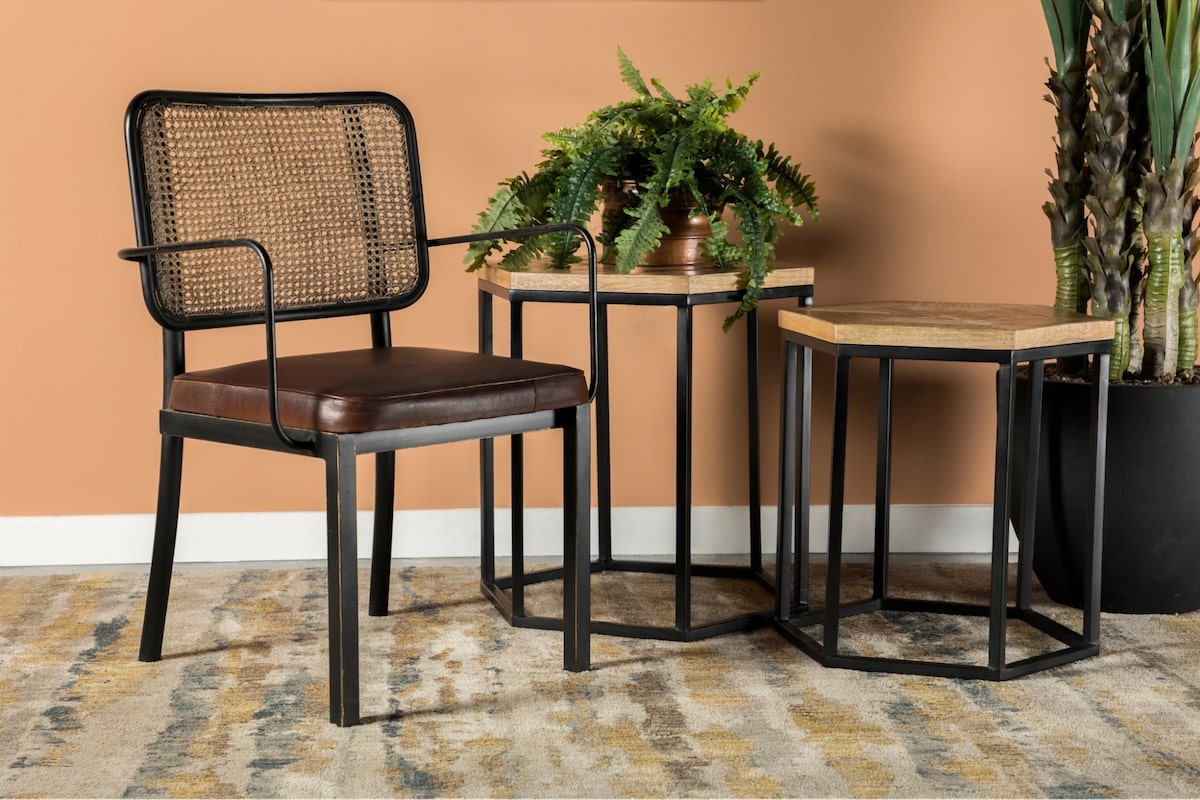 This accent chair pairs two different natural materials — leather and cane rattan — to create a richly textured design with a simple silhouette. This chair has a smaller footprint than many accent chairs, so it's ideal for small spaces. 
6. Corliss Upholstered Arched Arms Sofa in Beige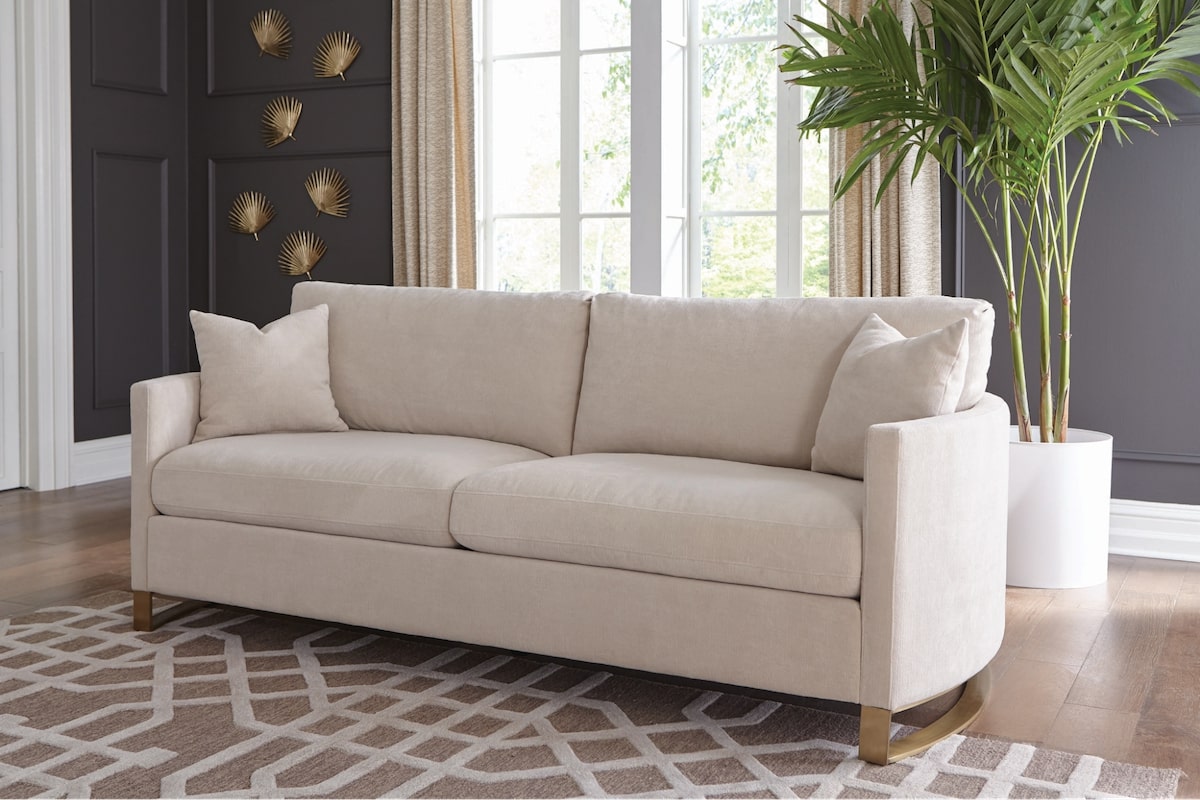 The neutral beige upholstery and rounded silhouette of this Corliss sofa are signatures of organic modern style. The way the arms sweep around to meet the back of the sofa is like a windswept stone. 
Bring
organic modern home 
With the uncluttered appearance of a modern interior and the warmth of the natural world, organic modern design has become a cultural phenomenon. This style speaks to something deep within our hearts — a longing to escape the pressures of our hectic lives and create a closer connection with nature. 
By incorporating elements of organic modern design into your space, you can create a peaceful escape and you will find your favorite nature-inspired pieces. Then mix them together to add layers of natural texture and neutral color. Piece by piece, you can create your own organic modern dream home — and that is something worth celebrating.
---